INTRODUCING A REVOLUTIONARY SOLUTION FOR AIRLINES INDUSTRY
The Airlines Kiosk System is designed for an Interactive Airlines Check In System. This system is for the airline companies providing Check In facilities to its customers, for effortless and hassle free service of Check In. The Kiosk System addresses security by deterring travelers from malicious attacking or hacking into their details of Check In. It secures the travelers' details.
The Kiosk System allows a traveler to Check In, in a full screen mode with assistance of demo and advertisements. This is useful for travelers that require an airline company to interact with a single application and make the interaction with the company technologically Secure, Reliable and Real Time Reporting for the airlines companies and their travelers.
Features of The KIOSK SYSTEM
Centralized System
Real Time Reporting with Secure Platform
Secure Platform
Reliable & Robust
Fast & Easy
Real Time Monitoring System
Security Alert at The Time of
Opening and Closing
Advertisements
Non-Breakable Glass &Power Backup
Camera For User Picture
US & UK Standards
Biometric System
Customized Printing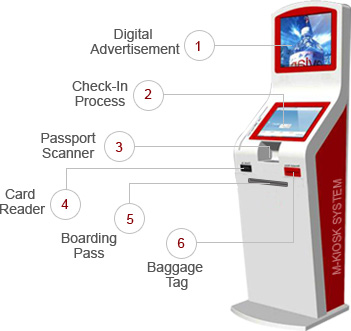 Add on Services with KIOSK system
Additional Features like Seat Selection
Sales Platform
Travel Agent Portals
Real Time Reporting
Assistance and Customer Support
Advertisement Portal